Kia India will make its electric vehicle debut in June with the release of the stylish new Kia EV6. Pre-launch bookings will begin on May 26, with just 100 cars first arriving as completely built-up (CBU) units. We now have the specifications for the India-spec model, and things seem bright.
The 2022 Kia EV6 is the company's first dedicated electric vehicle. The eye-catching crossover is based on the same Electric-Global Modular Platform (E-GMP) that will back a spate of upcoming Kia EVs. The EV6 is an example of the growing options and capabilities of the latest electric vehicles, with an expected range of up to 310 miles (499km~) and rapid charging rates thanks to its 800-volt design.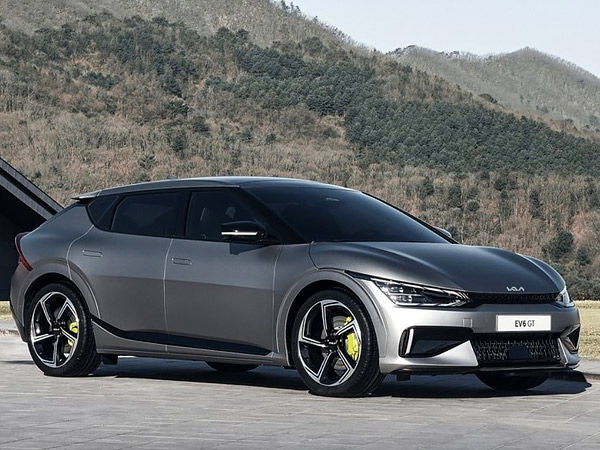 It also comes with two different batteries, rear- or all-wheel drive, and horsepower ranging from 167 to 576. The latter is true for the top-of-the-line EV6 GT, which is said to accelerate from zero to 60 mph in under 3.5 seconds. The aggressive design and appealing interior of the 2022 EV6 make it more fascinating than its unoriginal moniker indicates.
What Is New in 2022?
Kia says it wants to create 11 new electric vehicles by 2026, the first of which will be the new 2022 EV6. We can't wait till the first models arrive in showrooms early next year now that we've seen their sleek appearance and appealing interior designs and know more about their features.
We recommend the dual-motor, all-wheel-drive Wind trim level because it is the cheapest way to have all-weather traction and because the twin motors provide 320 horsepower combined vs. 225 hp for the single motor.
Electric Vehicle Motor, Power, and Performance
The EV6 may be equipped with rear- or all-wheel drive and a single electric motor positioned on the rear axle or an electric motor mounted on both axles. All-wheel-drive variants have a larger battery pack and either 320 or 576 total horsepower, while the standard rear-drive model has a smaller battery and 167 hp. The larger battery increases the overall system output of the rear-drive EV6 to 225 horsepower. 
In Europe, they drove a GT-Line AWD and appreciated its responsive acceleration, quick handling, and customizable regenerative braking settings. The 320-hp GT-Line variant recorded a 4.5-second zero-to-60-mph time on our test track. Those looking for maximum straight-line performance will like the 576-hp GT's projected zero-to-60-mph speed of fewer than 3.5 seconds.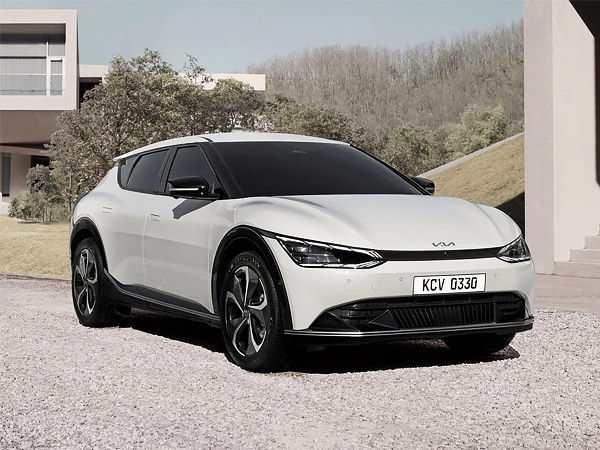 Battery Life, Range, and Charging
The Kia EV6 has two battery sizes: 58.0 kWh and 77.4 kWh. The larger one will have a greater driving range. The basic battery has an EPA-rated range of 232 miles (350km~), while the bigger, long-range battery has an EPA-rated range of up to 310 miles (499km~). Kia claims that the battery has an operational voltage of 800 volts and can be charged from 10 to 80 percent in just 18 minutes when plugged into a 350-kW fast charger. This similar system is reported to add 70 miles (100+ kms) in just 5 minutes. When connected to a Level 2 outlet, the 11-kW onboard charger will recharge the battery from 10% to 100% in 7 hours.
Real-World MPGe and Fuel Economy
Every single-motor EV6 gets an EPA combined rating of up to 117 MPGe, while the dual-motor model has a rating of 105 MPGe. We will be able to evaluate their real-world efficiency once we have tested both settings on our 75-mph highway route as part of our rigorous testing program.
Cargo, Passenger Space, and Interior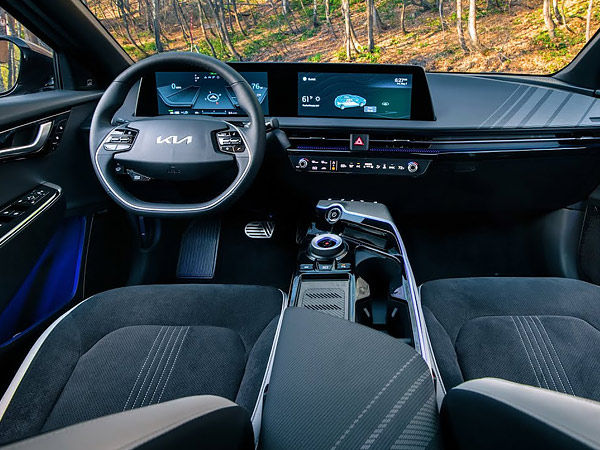 The inside design and layout of the EV6 are not as daring as the outside, but the arrangement and amenities are more appealing and futuristic than any other contemporary Kia vehicle. Although the center console does not swivel back and forth and there are no front-seat footrests as on the future Ioniq 5, the EV6 combines high-tech components like a digital dashboard with practical elements like a floating center console with enough storage and a huge bin beneath it.
The two-tone, two-spoke steering wheel, the conspicuous start button on the central console, and the gold embellishments that are tastefully positioned around the cockpit are also notable.
The EV6 has a flat floor and a wheelbase as long as the three-row, mid-size Kia Telluride, so passengers have plenty of room. There is an additional 28 cubic feet of cargo capacity behind the back seat and 54 cubes when the rear seatbacks are folded flat. There's also extra storage space behind the front trunk, albeit it's not as large as imagined.
Connectivity and infotainment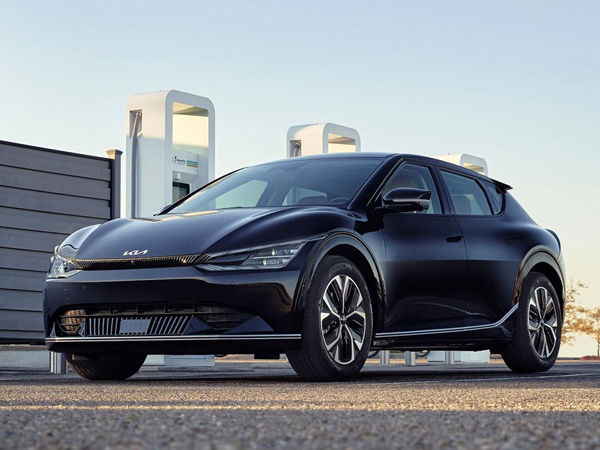 The infotainment system is controlled via a 12.0-inch touchscreen that extends the EV6's 12.0-inch digital instrument cluster. However, the menu layout and navigation design, and speed are lackluster.
The system incorporates popular features such as Apple CarPlay, Android Auto, wireless smartphone charging, a Wi-Fi hotspot, and the capacity to accept over-the-air upgrades and respond to a variety of voice requests. Furthermore, the stereo may be upgraded to the Meridian unit with 14 speakers, which is available.
Since the Kia EV6 would be imported into India, its sticker price ranges between Rs 65 lakh and Rs 70 lakh (ex-showroom). The Volvo XC40 Recharge and the new Hyundai iONIQ 5 will be its closest competitors at this pricing.